PlayBin for PocketPC & WindowsCE
I'm the proud owner of an "Atari 2600 Cuttle Cart" made by Chad Shell. The Cuttle Cart is a RAM cartridge for the 2600 that allows almost any 2600 game to be played.
The games are downloaded to the Cuttle Cart using an audio signal. The games can thus be stored on audio CD's or directly played from your PC via a soundcard. Since audio files take a lot of disk space, Eckhard Stolberg has created the PlayBin utility that converts ROM images on the fly to an audio signal and plays it directly through your soundcard. Thus no need to store your games as audio file.
However my PC is placed far away from my 2600 and using audio CD's is quite cumbersome since the games must first be converted to audio files and burned to CD. Besides CDs can only hold 99 audio tracks (in this case games) and selecting a certain track in the high numbers is not easy on portable and some normal CD players.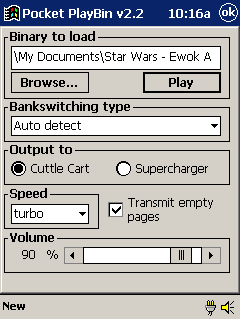 Then I thought it would be great to use the PlayBin utility on a PocketPC. The PocketPC memory could hold most of the 2600 games library and a PocketPC can easily be put next to your 2600. So I asked for the source code, which Eckhard kindly gave me, and I successfully converted PlayBin for PocketPC and WindowsCE devices.
You can download the latest version of Pocket PlayBin and PlayBinCE from the Cuttle Cart website.
PocketPC version of the PlayBin utility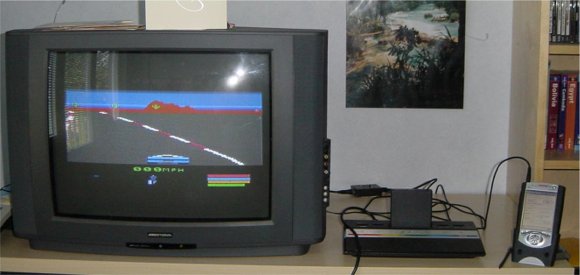 Fatal Run loaded from a PocketPC into the Atari 2600 Cuttle Cart