From 20 May till 4 June 2001 I visited Syria and Jordan. A lot of people I spoke before leaving were worried that Syria is a dangerous country. Although the troubles with Israel, I found Syria a safe country. The people are very kind and I didn't hear about any pickpockets.
The country is still very close. There was still no Coca Cola, McDonalds and ATM machines but since the new president that is changing. Internet cafes were emerging but the internet traffic was probably still being filtered. You could not always reach sites like Hotmail. Highlights of Syria are Damascus, Krak des Chevaliers, Apamea, Qala'at Samaan and Palmyra.
Jordan was much more touristy and at tourist places it was quite expensive. Highlights of Jordan are Jerash, Dead Sea, Wadi Rum and of course Petra.
Krak des Chevaliers (Syria)
Krak des Chevaliers is one of the best preserved crusaders castles in the middle east. It is strategically build on a mountain top and was never really breached.
Apamea (Syria)
Apamea is a city founded by Seleucus I, a general in the army of Alexander the Great in the third century BC. It was an important trading post in the Roman empire.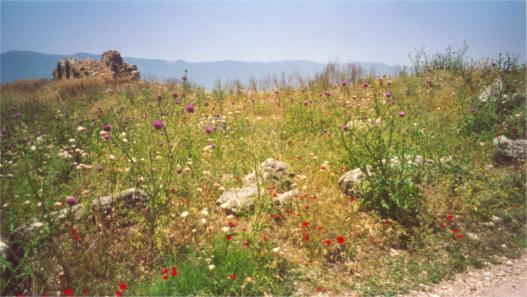 Beautiful weeds between the ruins of Apamea
Qala'at Samaan (Syria)
Qala'at Samaan are the ruins of St. Simeon's basilica. St. Simeon was a Christian born in 392 AD. He lived under a regime of self-imposed severity. People heard of him and came to see him. Simeon didn't like that and erected a pillar were he took residence so the people couldn't come near him. After his dead they build an enormous around his pillar.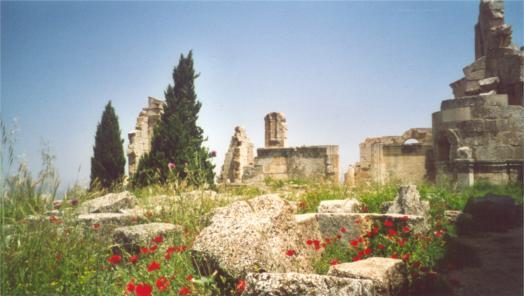 Beautiful weeds between the ruins of Qala'at Samaan
Some market along the road in Syria
When traveling from Rasafa to Palmyra we came through a city where there was a market. On this market I bought a traditional head cloth. The children all knew how to put that on and were eager to help. Of course they all wanted with me on the photo.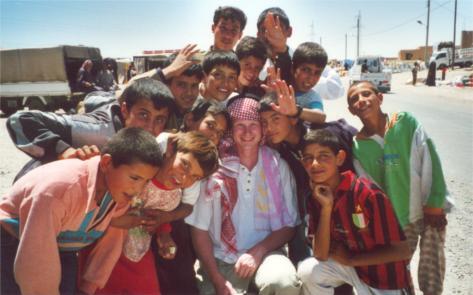 Me with lots of enthusiastic children on a market in Syria
Palmyra (Syria)
Palmyra is the must-see attraction of Syria. It is a vast city with a lot of ruins explore.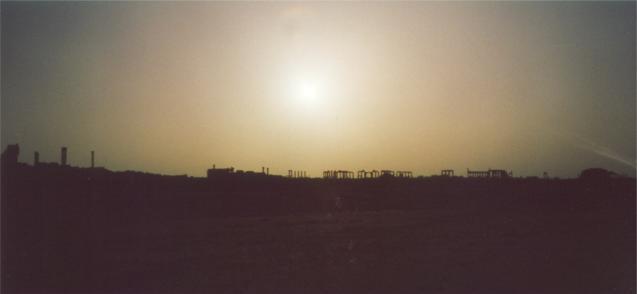 Sunrise over The Great Colonnade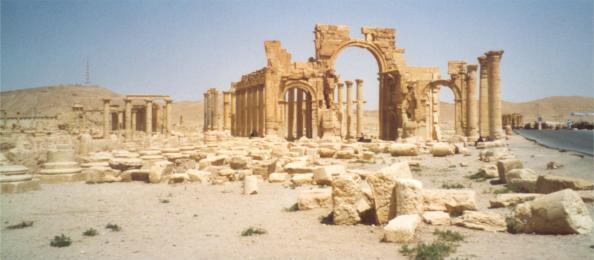 Monumental Arch (right) and Nabo Temple (left)
Jerash (Jordan)
Jerash is one of the best example of a Roman city. You can find ruins of many churches, temples and theatres.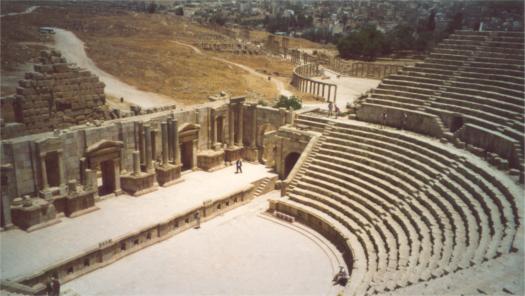 Southern theatre and the oval plaza behind it
Dead Sea
Of course one of the things you must see when you are in Jordan is the Dead Sea. Because of the high concentration of salts you cannot sink. Swimming is difficult since your feet will stroke above the water. Be careful not to get any water in your eyes.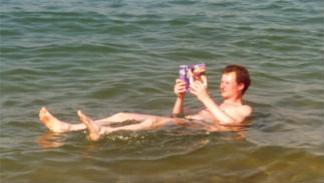 The inevitable photo: Reading while floating in the Dead Sea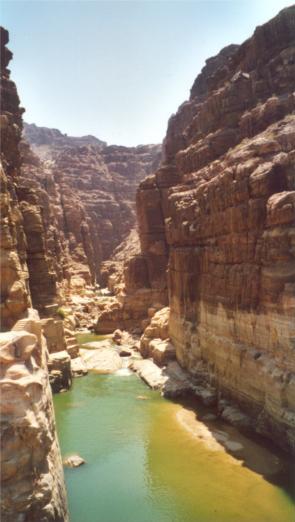 Wadi Muijb which ends in the Dead Sea
Petra (Jordan)
Petra is the must-see site of Jordan. It is a vast area covered with tombs. You need to spent at least two days in Petra to see the more remote sites. In Petra you can walk and climb mountains for days.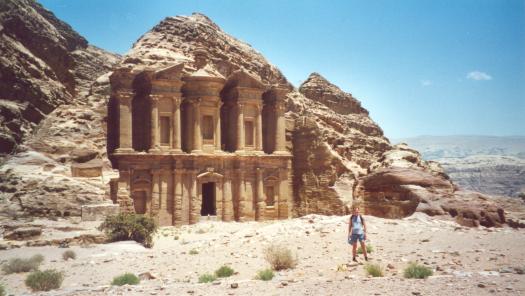 Me in front of Al-Deir or The Monastery
Wadi Rum (Jordan)
Wadi Rum is most famous for "Lawrence of Arabia". It is a vast desert with red sand and wide valleys. The scenery is really spectacular and sleeping under the stars is unforgettable. (especially when there is a sandstorm at night and you and your sleeping back are filled with kilos of sand)


Of course we had a flat tire in the middle of the desert


The beautiful landscape of Wadi Rum